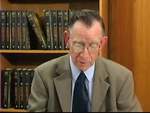 Title
003. Does it really matter what church or religious body you belong to?
Publication Date
12-4-2009
Description
Dr. Manteufel responds to the question "does it matter which church I belong to."
Keywords
beliefs, sacraments, Lutheran, Reformed, Biblical teachings, invisible church, Word of God, common ground, Son of God
Disciplines
Christian Denominations and Sects | Christianity | History of Christianity | Religious Thought, Theology and Philosophy of Religion
Submission Type
Bible Study; Lecture; Sermon Prep
Scripture References in this Resource (separated by semi-colons)
John 8:31-32; Ephesians 4:14-15; 1 Peter 3:15; Matthew 28:19; Romans 16:17;
Submission Audience
Laity; Ministers; Scholars
People in this Resource (separated by commas)
C.F.W. Walther, C.S. Lewis,
Creative Commons License


This work is licensed under a Creative Commons Attribution-No Derivative Works 4.0 License.
Recommended Citation
Manteufel, Thomas, "003. Does it really matter what church or religious body you belong to?" (2009). American Religious Scene. 3.
https://scholar.csl.edu/americanreligiousscene/3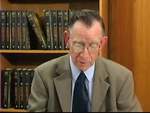 COinS