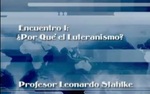 Files
Publication Date
1-1-2002
Description
Es la esperanza del Centro de Estudios Hispanos (anteriormente el Instituto Hispano de Teología) del Seminario Concordia, St. Louis, que en este curso puedan encontrar las bases de fe que los cristianos tenemos. Para que esto sea posible, esperamos presentar para ustedes un repaso general de lo que las Sagradas Escrituras, La Santa Biblia, nos enseña.
Included for these 12 lessons is a link to download the entire Study Guide.
Incluido para estudiar las 12 lecciones es un link para bajar todo el manual de estudio.
Keywords
fe, cristiano, bautizado, Mesías, Jesús, credo, Dios, sacramento, lutheranismo
Disciplines
Religious Thought, Theology and Philosophy of Religion
Submission Type
Bible Study; Lecture; Sermon Prep
Scripture References in this Resource (separated by semi-colons)
Hebreos 11:1;
Submission Audience
Laity; Ministers; Scholars
People in this Resource (separated by commas)
Carlomagno, Papa Gregorio, Martín Lutero, Papa León III,
Recommended Citation
Stahlke, Leonardo, "Encuentro 01 - ¿Por Qué el Luteranism" (2002). El Testimonio de la Fe Luterana. 1.
https://scholar.csl.edu/testimonio_luterana/1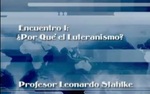 COinS