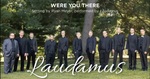 Publication Date
3-16-2021
Description
Our series of hymn recordings celebrates the rich intersection of music and theology in our Lutheran heritage.
This beautiful setting of the familiar spiritual, Were You There, was composed for Laudamus by Mr. Ryan Meyer, the Director of Parish Music at Chapel of the Cross Lutheran Church in St. Louis, MO. It has since become a featured selection on our annual Laudamus concert tours. We invite you to meditate on the text with us (LSB 456), or even to sing along as you listen!
Learn more about the musical offerings at the Seminary at Music Arts.
Keywords
st. timothy and st. titus, laudamus choir
Disciplines
Practical Theology
Submission Type
Bible Study; Lecture; Sermon Prep
Submission Audience
Laity; Ministers; Scholars
Rights
http://creativecommons.org/licenses/by-nc-nd/4.0/
Recommended Citation
Marriott, James, "Laudamus sings 'Were You There'" (2021). Seminary Choirs. 5.
https://scholar.csl.edu/music_arts/5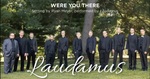 COinS