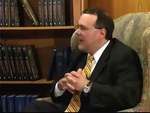 Title
034. What is Calvinism?
Publication Date
12-4-2009
Description
Dr. Rast responds to the questions "What is Calvinism?"
Keywords
Calvinism, reformed tradition, transubstantiation, symbolic representation, double predestination, Puritans
Disciplines
Christian Denominations and Sects | Christianity | History of Christianity | Religious Thought, Theology and Philosophy of Religion
Submission Type
Bible Study; Lecture; Sermon Prep
Submission Audience
Laity; Ministers; Scholars
People in this Resource (separated by commas)
John Calvin, Ulrich Zwingli, Martin Luther,
Creative Commons License


This work is licensed under a Creative Commons Attribution-No Derivative Works 4.0 License.
Recommended Citation
Rast, Lawrence, "034. What is Calvinism?" (2009). American Religious Scene. 34.
https://scholar.csl.edu/americanreligiousscene/34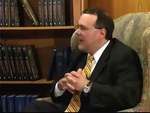 COinS